THE TELESCOPES
Founded in 1987 by Stephen Lawrie, the Telescopes have been mining a unique anti-myopian seam of highly influential experimental, drone, noise, dream & psych for over 20 years. Their first record was a split flexi-disc with Loop on Cheree Records. After two critically acclaimed singles for the label, they moved to What Goes On Records. There they released another two EPs and their debut album Taste, all of which found their way to the top of the UK independent charts. Tours followed with Spacemen 3, Primal Scream and The Jesus and Mary Chain – and it wasn't long before The Telescopes were headliners themselves. Whipping Boy, Slowdive, Bleach, The Cranes and Ride all played some of their earlier shows supporting them. The group released their second album and a string of EPs for Creation Records label. In 1992 the group underwent an eight-year hiatus, resuming output in the year 2000 with a revolving line up. In 2011 they were invited by Portishead to play at the first ever ATP festival at Alexandra Palace in London. The following year The Black Angels / Reverberation Appreciation Society invited them to Austin Psych Fest 2012. In 2015, the Hidden Fields album was released by German label Tapete Records. It was described as shoegaze and noise pop, but more song-based than recent releases.
https://thetelescopes.bandcamp.com
www.facebook.com/thetelescopesuk
KAIRON; IRSE!
The Finnish band Kairon; IRSE! are known for their strong live performances, and their fog-fuelled space jam sounds bring to mind 1970s progressive rock and 1990s alt-rock vibes. When the band's guitars aren't beautifully whining in shoegaze mode, roaring waves of krautrock crash over the audience. Kairon; IRSE! is nothing if not open-minded, and the band's solid sound with glassy vocals and stunning arrangements is best experienced live.
https://kaironirse.bandcamp.com/
www.facebook.com/kaironirse
HUGO RACE
Hugo Race, formerly of The Wreckery and the Bad Seeds and now an internationally based solo artist, producer and performer delivers intense sonic soundscapes that merge folk, experimentalism, electronica and rock. Originally from the 1980′s Melbourne post-punk music scene, Hugo's eclectic collaborations and bands, spread over several continents, include: Dirtmusic, The True Spirit (since 1989, 14 albums of trance industrial blues; a new album tentatively entitled THE SPIRIT released in November 2015 on Glitterhouse Records), Hugo Race Fatalists, Sepiatone, Long Distance Operators (LDO) and more. Hugo's songwriting draws on pop culture from rock n roll to soul to delta blues to avant-garde experiment. Hugo defies any easy label and has staked out a creative territory entirely his own.
He's coming to Gdansk to be a leader of the international shoegaze group Pure Phase Ensemble and to cooperate with local musicians.
www.hugoracemusic.com
FOLDER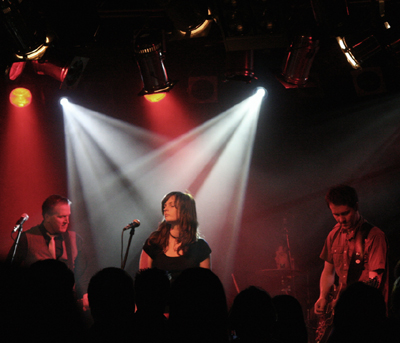 Tricity band Folder come back after a long hiatus only to present material from their brilliant 2009 Red Lof debut album and Inside EP at SpaceFest! This melancholic music pulsates with neurotic escapism: disappearances, melting into smog or mist – like with Sonic Youth, Joy Division or Spiritualized. These are the sounds of blurred lanterns, raindrops hitting car windows and wet, glossy streets.
The band will perform in the original line-up: Jędrek Chrapek (bass), Mariusz Kużownik (guitar), Marcin Miśkiewicz (drums), Michał 'Kostek' Stolc (keyboard) and Joanna Bielawska (vocals), currently known under the moniker Asia i Koty. Joanna has one of the most distinctive voices of the Polish alternative scene: on the one hand absent and cool, on the other able to convey powerful and overpowering emotions.
www.facebook.com/folderband
TAU
TAU is a collaborative project spearheaded by Berlin-based Shaun Nunutzi, a member of the fearsome band Dead Skeletons. Inspiration for the music was manifested in the desert lands of the Real de Catorce, north-west Mexico. This project is a collage of ideas and trance-induced soundscapes and comes from a lineage of those who are influenced by the psychedelic/psycho-active experience. Themes include animal totems (as seen in the video for A Wink To The Elements) and reimagined indigenous medicine songs aimed at transcending the mind and liberating the spirit. Much like the desert's wide-open spaces that inspired much of this project, TAU's membership is also open and expansive: contributors to the recordings include members of Kadavar, The Soft Moon, The Pussywarmers and John Jeffrey, drummer of Moon Duo. This opens the rotation of collaborators to experiment and connect. While the group is fluid, it's also one that is sonically cohesive and focused.
https://tauofficial.bandcamp.com/
www.facebook.com/pages/TAU/698229903565781
LIGHTS THAT CHANGE
Lights That Change is a dreampop ethereal wave project that Marc Joy began many years ago, representing a culmination of his many years producing, engineering, and mastering artists from a broad range of genres (like Oasis, Bernard Butler, Primal Scream, Wishbone Ash) and his own solo and collaborative creative endeavours. This is an initiative to get back to why he began a career in music in the first place, looking for the perfect dreamscape sonic horizon, created primarily on the basis of guitars. Now the project has expanded to a full band over the period of writing and recording LTC's debut album. Members include Mandy Clare on vocals, John Bryan on bass guitar and Mal Holmes (Orchestral Manoeuvres In The Dark) on programing.
www.facebook.com/lightsthatchange
‪https://soundcloud.com/lightsthatchange
DYN
This year 8mm musik record label released the self-titled debut album by Berlin garage and psych rockers DYN. The duo of multi-instrumentalists Tilma Kettler and Carl Heine teamed up with engineer and producer Fabian Leseure (The Brian Jonestown Massacre, Dirty Beaches) to record the 9-song album in a manner true to band´s lo-fi high-intensity dynamic. DYN have developed a charismatic blend of experimental garage-rock. They performed at 2015´s Austin Psych Festival (Levitation), and shared stage with The Raveonettes, The Holydrug Couple and Mikael Cronin.
www.facebook.com/DYNmusik
https://dynmusik.bandcamp.com
SNOWID
Snowid descended to Earth in Krakow in 2013 to bring humanity his accumulated cosmic power. He does it through a mix of pagan, occult and cosmic electronic music. His main goal is to draw out the natural human instincts and bring the audience into interstellar trance. He has so far recorded three albums, available online, and live gigs rely on more unreleased material. Members of the band are: Snowid – Omniscience, The Voice of the Forest and DJ Grzyb – The Catalyst of the Cosmic Power.
http://snowid.bandcamp.com
www.facebook.com/MuzykaSnowida
ZIMOWA
ZIMOWA is a band from Wodzisław Śląski, created by singer Aneta Maciaszczyk, instrumentalist Michał Mentel and accompanying musicians: Michał Husak on guitar and Jakub Buczek on bass/sampler. The group was founded in 2014 and combines influences with noise-pop and 80s/90s alternative with new sounds, creating intensive, absorbing songs. Their debut album Cover the Fall was released on 6 May 2015, featuring a mix of fuzzy guitars and melancholy electronica with subtle, sensual vocals. The final mastering was made by Marcin Cichy from Skalpel. Zimowa have played a number of club concerts, i.a. supporting Rebeka, Małe Miasta, Sjón, xxanaxx, Marcelina or the British duo Ivy&Gold. They have also performed as part of the music scene of the 15th T-Mobile New Horizons IFF in Wrocław, PKO OFF Camera in Krakow and AlterFest in Mysłowice. The band has been selected to play at SpaceFest! in the young bands competition organised by the festival.
www.zimowa.com
www.facebook.com/zimowa
ŁOTRY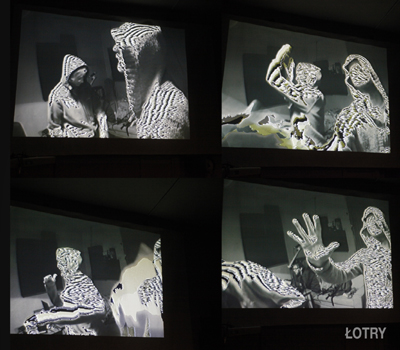 Łotry were founded in 2010 in Krakow by Paweł Żugaj and Mateusz Ryszke. The band made it to the finals of the Era New Horizons competition for the opening act for Grinderman. They also supported Dirty Beaches at their Krakow gig, and played at the Southern Discomfort festival together with The Flying Eyes and Golden Animals (USA). The band has a recorded a number of videos. The one to The Road of Bones was often played on TVP Kultura. Łotry's gigs are always accompanied by a live video set. The band has been selected to play at SpaceFest! in the young bands competition organised by the festival.
www.facebook.com/lotry
https://soundcloud.com/lotryband
Dr. SWITCHOFF
Dr. Switchoff a.k.a. Danil Akimov is a sound artist, curator and DJ from Kaliningrad, Russia. He works in interdisciplinary fields of contemporary art, focusing on audio-visual installations and performances. He is one of the founders of Membrana/Membranoids – a sound-art group uniting "underground scientists and sound absurdists" as well as a member of various other music projects (Kaliningrad Semiconductors Community, Kratong, Pocket Band, Polyvox Orqestra, Mud-o-tronic). He uses a variety of technologies and methods of interaction for the creation of sound structures (e.g. broken hi-fi equipment, analogue Soviet synths, fields recordings or unidentified sound objects). His eclectic DJ sets showcase the best and worst of weird music from all around the world. Since 1999, he has played in underground clubs, cafes and galleries in Vienna, Berlin, Hamburg, Warsaw, Moscow, Riga and other cities. The SpaceFest! audience fell in love with him over the previous years, which is why we have decided to bring him back!
http://soundcloud.com/danilakimov
MORE DETAILS SOON TO COME!