MARK GARDENER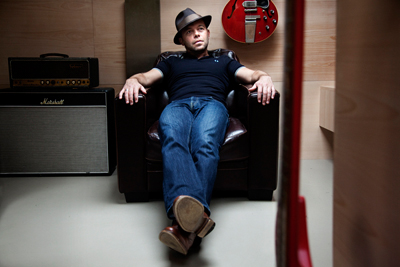 Mark Gardener was the lead singer, guitar player and a songwriter for Ride – a British alternative rock band that formed in 1988 in Oxford. Ride were signed to Creation records and were the first band to attain chart success for the label with all of their initial EP releases. Nowhere the bands first album released in 1991 was a critical and commercial success reaching no 11 in the UK and in 1992 the single Leave Them All Behind from their second album Going Blank Again broke into the UK's top 10. Ride split in 1996 and after releasing another album with The Animalhouse Mark has been playing solo and band shows over the past 12 years around the world. He released a solo album called These Beautiful Ghosts in 2005 and has collaborated with many artists and recordings including work with the French duo rinôçérôse, Dive Index, Hopewell, The Morning After Girls and The Brian Jonestown Massacre. In July this year Mark released a new single online that was written and recorded with Robin Guthrie from The Cocteau Twins entitled The Places We Go. Alongside his ongoing live performances and tours for the past 8 years Mark has been producing and mixing many artists and has also been working with the Document team writing and recording the original soundtrack music for the Mojo and NME 2011 award winning Upside Down (The Creation Records Story) film/documentary. Mark is planning the release of a new solo album in the summer of 2013 and his live shows now cover and span all his musical work over the past 20 plus years.
http://www.markgardener.com/
DAMO SUZUKI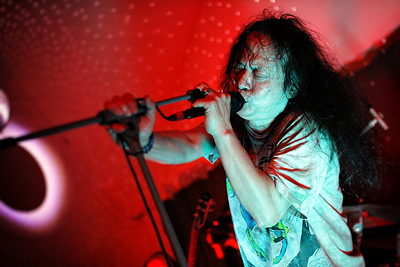 Damo Suzuki is the former singer of the legendary krautrock group Can, with whom he recorded a number of well-regarded albums such as Tago Mago, Future Days and Ege Bamyasi between 1970 and 1973. He then took almost a decade's break in music, returning onto the stage in 1983. He has since led the so-called Damo Suzuki's Network – an assembly of musicians with whom he performed improvised concerts in various countries. Each such concert is a one-off experience created with ever changing local 'sound carries'. There are no prior rehearsals, so the result may be as surprising for the musicians themselves as it is for the audience. Various live recordings of Damo Suzuki's Network have been issued since 1997, each with featuring distinct musicians operating under Damo Suzuki's guiding hand. Damo Suzuki has performed live with the likes of Michael Karoli and Jaki Liebezeit of Can, Do Make Say Think, Broken Social Scene, Acid Mothers Temple,The Bees or Add N to (X). However, the Network is constantly expanding: in Poland, Damo will be joined on stage by Popsysze – a band from Gdansk that will take on the role of the 'sound carriers'.
http://www.damosuzuki.com
SEA DWELLER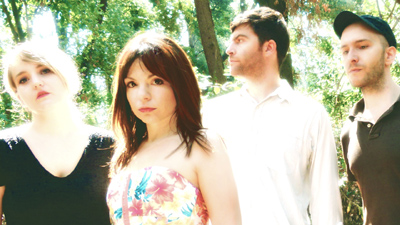 Sea Dweller formed in 2005 in Rome, Italy. Inspired by the first shoegaze / dream pop wave of the late 80′s and early 90′s, they have crafted their own sound, heavily reliant on delays and reverbs. However, what truly makes them stand out among the many bands that originate from this genre is their personal psychedelic pop sensibility.
After publishing the record Love Is Coming on the German label 2&1 Records, they went on tour with Asobi Seksu and The Victorian English Gentlemens Club and played with Gregor Samsa, Spotlight Kid and APSE, among others. In 2012 they released their new album, Signs Of a Perfect Disaster, on Upside Down Recordings.
It received excellent reviews and won the acclaim of Boomkat, Norman Records and Rough Trade. The SpaceFest! performance will be their first gig in Poland.
www.seadwellermusic.com
PURE PHASE ENSEMBLE
Pure Phase Ensemble is an international shoegaze instrumental collective created especially for  the SpaceFest! festiwal.
9 musicians from Poland and the UK will take part in a workshop held in Laznia CCA in the beginning of December 2012. Together they will compose the music material which will be presented to the audience during the festival. The musicians will create 7 songs based on a certain key tones extracted from Pure Phase Tones for DJ's by Spiritualized. The songs will be recorded live and then released on a CD.
Raymond Dickaty, a British saxophonist improviser, in 1997-2002 a member of Spiritualized, cooperating among the others with Radiohead, Stereolab, Lush, Dr. John – will create the programme of the workshops together with Chris Olley (Six By Seven) and Steve Hewitt (ex Placebo).
full lineup:
Ray Dickaty (ex Spiritualized) – sax, flute
Chris Olley (Six By Seven) – guitar, voc
Steve Hewitt (ex Placebo) – drums, guitar, voice
Ola Rzepka (Drekoty) – keyboard, drums, voice
Maciej Wojnicki (Mananasoko) – electronics, violin, voice
Artur Bieszke (Marla Cinger, KSAS) – guitar
Maciej Minikowicz (The Sunlit Earth) – guitar, voice
Rafał Wojczal (Trupa Trupa) – keyboard farfisa jacqueline de luxe -  C
Łukasz Piotrowski – bass guitar
RAY DICKATY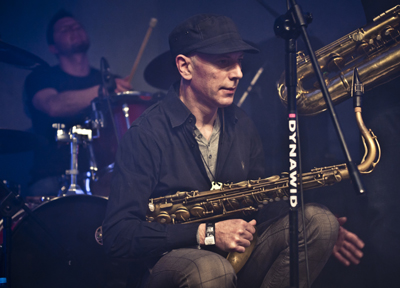 Ray Dickaty Saxophonist and Composer. His musical career consists of more than 60 recordings with various artists. As a member of Spiritualized he arranged brass and played on the albums Live at the Albert Hall, Let it Come Down, and Amazing Grace. As a member of the Too Pure band Moonshake he recorded two albums and has played both with Stereolab and Cornershop as well as performing alongside PJ Harvey. With his own free jazz noise band Solar Fire Trio he has released 3 acclaimed albums and toured supporting Julian Cope. He has also recorded and performed with amongst others: Moose, Lush, D John, Durutti Column, AMP, The Duke Spirit, Six by Seven, Damo Suzuki, Slipstream, Thighpaulsandra, Soulsavers (Mark Lanegan), Sonic Youth, Suicide, Super Numeri, John Moores Revolution 9, Michael J Sheehey and The Flowers of Hell.
Currently resident in Warsaw he is an active member of the Polish improvised music scene, collaborating with musicians including Maciej Bielawski, Mikolaj Palosz, Pawel Szpura, Patryk Zakrocki, Hubert Zemler, Ksawery Wojcinski, Rafal Mazur, Michal Dymny, Tomek Choloniewski, Michal Dymny. He is also a member of the Trifonidis Free Orchestra. www.raydickaty.com
CHRIS OLLEY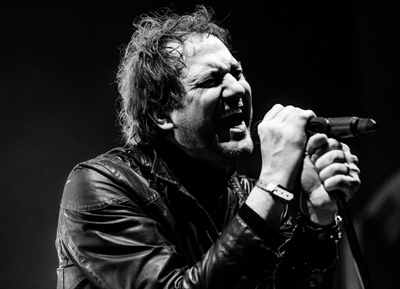 Chris Olley is predominantly known as the frontman, singer and guitarist of the rock band Six by Seven, with whom he recorded seven studio albums. The band has five exclusive Peel Sessions under its belt, a performance on BBC's Later with Jools Holland and 80,000 sold records. Olley has also released a solo album entitled A Streetcar Named Disaster and a series of EPs such as East Of Edale, Who's Afraid Of Virginia Wade and The Grapes of Hyman Roth – either on his own or via Cargo Records. He is also part of the music project Twelve, which oscillates around electronic krautrock. In 2006-2008 he cooperated with Julian Cope. In 2012 he was invited to take part in WERK's Songs that Make Sense album, where he sings on Dead Man. Chris Olley is also the co-founder and co-owner of Coopersonic – a company producing high-quality guitar effects used by e.g The Rolling Stones or The Arctic Monkeys. He studied History of Art at Wakefield College and Photography at Nottingham Trent University. As he likes to say: "I've got two passions. Where music ends, photography begins". Fan of London-based football team West Ham United.
During SpaceFest! he'll participate in the workshop for musicians and perform with Pure Phase Ensemble, alongside Ray Dickaty (ex-Spiritualized), Steve Hewitt (ex Placebo) and 6 Polish musicians.
www.sixbyseven.co.uk | www.chrisolley.wordpress.com
STEVE HEWITT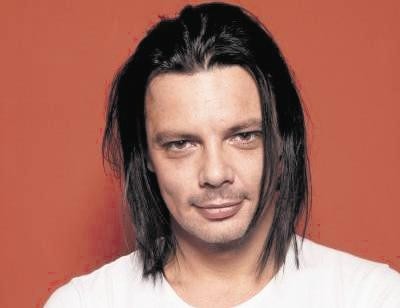 Steve Hewitt is the singer and guitarist in Love Amongst Ruin and drummer for Six by Seven, having previously been the drummer for Placebo between 1996 and 2007. Prior to that, Hewitt was a member of various bands. First he played in The Charlatans with his Northwich neighbour Tim Burgess. He then was a member of such bands as Electric Crayons, K-Klass, The Mystic Deckchairs, The Boo Radleys and Breed. When Breed split up he joined Placebo, with whom he recorded four albums which are considered as the most important in this band's history: Without You I'm Nothing (1998), Black Market Music (2000), Sleeping with Ghosts (2003), Meds (2006). Since 2010 he has been the frontman of his new band Love Amongst Ruin. In August 2012, Hewitt also became the new drummer for Six by Seven. He is also a music producer.
During SpaceFest! he'll participate in the workshop for musicians and perform with Pure Phase Ensemble, alongside Ray Dickaty (ex-Spiritualized), Chris Olley (Six By Seven) and 6 Polish musicians.
http://loveamongstruin.com/
2KILOS & MORE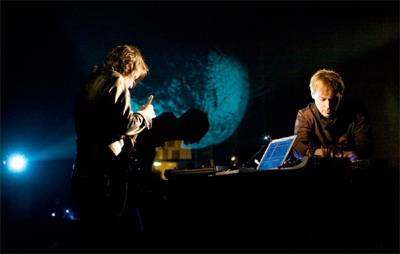 2kilos &More is a French electronica duo from Paris created in 2003 and consisting of Séverine Krouch and Hugues Villette (Von Magnet). Before finding their way to audiophob, they released one 3″ CD and two albums on different labels as well as a lot of other contributions to compilations and movie soundtracks. The new album Kurz vor5 is once again produced by Norscq (The Grief, Atlas Project, dDamage, Colder, remixer for Meat Beat Manifesto, Depeche Mode etc.) in his Parisian studio. The duo has invited Phil Von (Von Magnet) and Black Sifichi (a great spoken-words artist from New York who worked with Black Dog, Burnt Friedman, Simon Fisher Turner, Rodolphe Burger, High Tones etc), two important voices from the independent French scene, to feature three new vocal compositions.
Using samples and digital sounds, the duo composes by improvising on long evolving sound waves. Their music often reminds us of the cinematographic world of David Lynch or Steven Soderbergh (Solaris). The press talks about them as a subtle mix between ambient-electronica (à la Warp) and post-rock (Kranky).
http://2kilosandmore.bandcamp.com/
POPSYSZE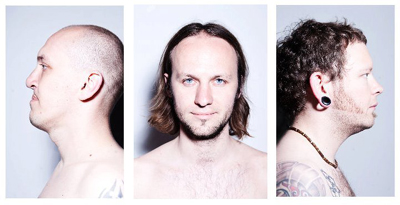 This eclectically-looking but musically coherent trio formed in 2008 in Gdańsk. Inspired by classic rock of the 1960s and 1970s, the band continuously explore the limits of the traditional guitar/bass/drums instrumentation. Popsysze's trademark are raw, energetic songs, which often fall short of the three-minute mark. However, the group does not shy away from improvisation, frequently surprising the listeners with a sudden break from the typical song format. With lyrics both in Polish and English, influences that range from The White Stripes to the Delta blues and intuitive rapport with both the crowd and each other, every Popsysze gig is an unpredictable rollercoaster. After all, paraphrasing the words of New York Dolls' David Johansen – you gotta have your fun… This year, Popsysze released their long-awaited debut album Popstory on Nasiono Records. At SpaceFest! they are going to play alongside Damo Suzuki. With a name that obliquely refers to straining the psyche, they seem perfectly adequate to become the next "sound carriers". nasiono.net/popsysze
100% RABBIT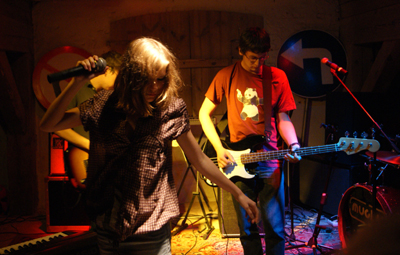 100% Rabbit is a new (2010) Polish indie rock band from Gniezno/Inowrocław. The members are: Maugola Gulczyńska (vocals, piano), Arek Łysakowski (drums), Adam Sowiński (guitar) and Robert Woźniak (bass guitar). The influences for the Rabbit are bands – especially those of the 90s – representing all kinds of genres like grunge, american indie rock, lo-fi, brit pop, rockabilly, shoegaze, ragtime, surf rock, trip hop or even rap and pop. The band's lyrics are all written in English with their topics centered about existential problems like – seemingly easy – love, hate and friendships and more tangled and abstract states of inner dilemmas, as well as being drunk. www.facebook.com/100percentrabbit
1926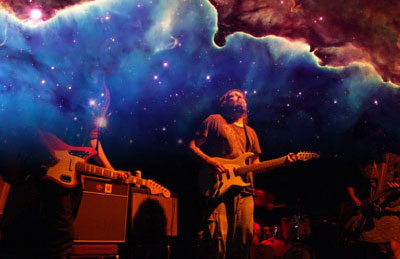 Psychedelic, shoegaze with a big dose of noise – this band from Gdynia is a proud successor to the traditions set by such bands as Sonic Youth, Colour Haze or Slowdive and transfers them to the favourable Polish ground. By using the experience acquired while playing with their other bands (like Kiev Office, Pomelo Taxi, Marla Cinger) they redefine the idea of the Tricity Alternative Scene and prove that they can play in the same league as Mars Red Sky, Pharoh Overlord or Tame Impala. Distorted, multilayered sound, great atmosphere at the concerts and total devotion to their home town – these are the main features of 1926. www.facebook.com/1926band
BROKEN BETTY'S AMPACITY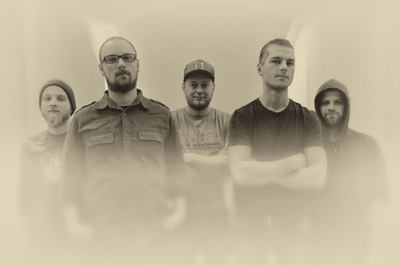 Broken Betty's Ampacity is a musical collective, dedicated to exploring the regions of regressive rock, with stoner and space vibes. It consists of members of Broken Betty – Jan Galbas (g,voc), Sebastian Sawicz (dr) and Piotr Paciorkowski (G), Wojtek Lacki (b) of God's Own Prototype as well as Marek Kostecki (k), who participated in recording sessions and release party gig of Broken Betty's first LP – The Sorry Eye. The project was formed as a one-time act, supposed to perform songs from the golden age of space rock, on SpaceFest! festival. However, this formula was quickly abandoned, and Broken Betty's Ampacity started to operate as a regular band. Intensive work on their own material resulted in compositions which rediscover sounds from early Hawkwind or Pink Floyd albums, mixing them with post and stoner rock influences. Shorter, song-like arrangements give way to monumental, rich forms, which do not lack space for free improvisation. First effects of this cooperation will be revealed on live gigs in December 2012, on Tricity's stages. A full length album is also planned, due to be released in 2013.
http://facebook.com/ampacityband | www.reverbnation.com/ampacity