PURE PHASE ENSEMBLE 9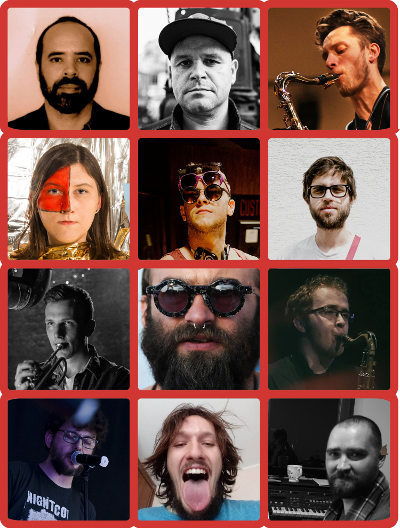 PURE PHASE ENSEMBLE 9 is an international formation created specially for SpaceFest! Throughout the week before the festival, a group of musicians will meet in the rehearsal room, composing and playing material that will be later presented live to the Spacefest audience. PPE 9 will be fronted by ADAM FRANKLIN, singer and guitarist of the legendary shoegaze outfit SWERVEDRIVER. In addition, the brass section will be headed by WOJCIECH JACHNA (e.g. INNERCITY ENSEMBLE, or previously CONTEMPORARY NOISE SEXTET).
Adam Franklin (Swervedriver) – guitar, vocals (artistic director)
Wojciech Jachna - trumpet (horn section coordination)
Jędrzej Jakubowski – drums
Piotr Hopcia – bass guitar, indian flutes, ravdrum, acoustic guitar, Djembe
Sebastian Strychu Strycharczuk – guitar, voc
Magdalena Kruk – guitar
Mateusz Romanowski – guitar, voc
Adam Skorczewski – trumpet
Jakub Klemensiewicz – bar sax, clarinet
Łukasz Żurawski – tenor sax
Bogumił Grala – harmonica, keyboard 
Karol Schwarz – electronic beats, synths
ADAM FRANKLIN (SWERVEDRIVER)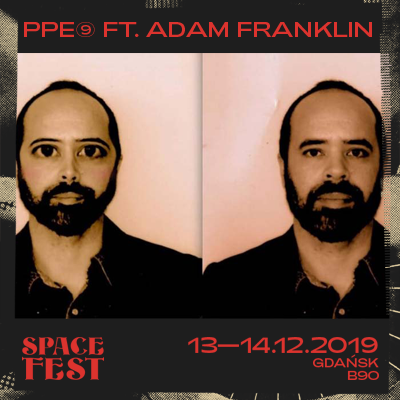 https://www.swervedriver.com/home/
THE TELESCOPES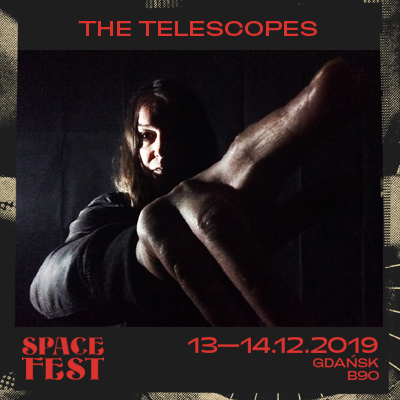 After their awe-inspiring 2015 set, THE TELESCOPES will be returning to Gdańsk in all their glory to celebrate the 30th birthday of their legendary album Taste. Founded in 1987 by Stephen Lawrie, the group have been mining a unique anti-myopian seam of highly influential experimental, drone, noise, dream & psych. As they say themselves, their latest album Exploding Head Syndrome "consists of eight new songs and incantations that form a series of sonic convulsions stretching the parameters of intuitive composition to the point of auditory illusion".
https://www.tapeterecords.de/artists/the-telescopes/
THE COSMIC DEAD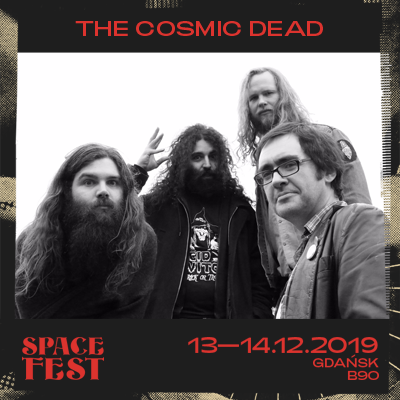 THE COSMIC DEAD – a psychonautal cosmodelic buckfaustian quartet from Glasgow. For anyone who hasn't yet stood before the Dead and their live homage to the cosmos, expect religious devotion to synthesised dreamworlds, subsonic grooves, guitaristic splendour and the vast, hypnotic sounds of Hawkwind and Popol Vuh eternally jamming in the Möbius strip of time and space.
https://thecosmicdead.bandcamp.com/album/scottish-space-race
KSAS [KAROL SCHWARZ ALL STARS]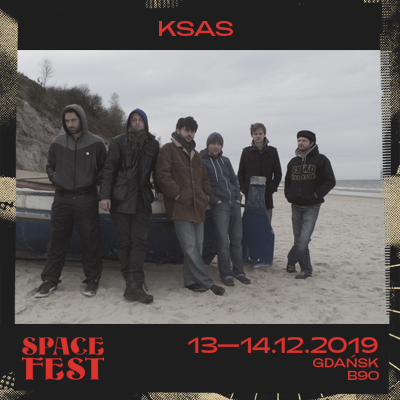 KSAS (Karol Schwarz All Stars) is clean, spontaneous energy. Music played live, no preparations, no rehearsals. The band has been around for almost 20 years changing its members and mission: they started with the motto "taking drugs to make music to take drugs to "to reach, through all the chords in the world, today's: "takin' naps to make music to take naps to. " One thing remains unchanged: a wall of delays, which six years after the previous release of the album "Hi, Mom!" returns to "Hi D (e) ad!" with all subtle power.
https://nasiono.net/album/ksas-hi-dead/
HEADS.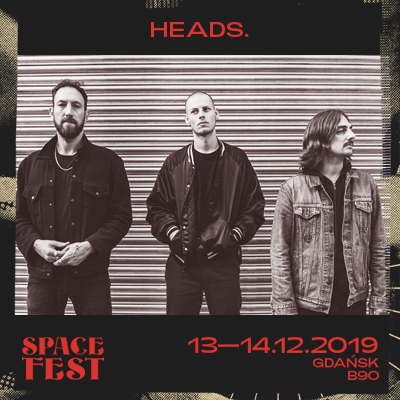 Formed in 2014 of two native Germans and one wandering Australian, HEADS. are like-minded individuals, drawing inspiration from the same filthy pools. With a straight-up, no-frills approach, and influences as diverse as Total Control, Rowland S. Howard and Shellac, this trio are much more than the sum of their parts. https://headsnoise.bandcamp.com
MARBLE ARCH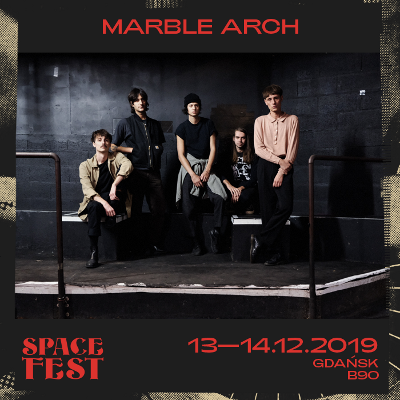 Fans of more delicate sounds, oscillating near the dreampop and shoegaze end of the spectrum, cannot miss the French band MARBLE ARCH. We could easily couple Marble Arch and its vaporous and heady repertoire with bands such as The Radio Dept., Slowdive, The Wake (the Sarah Records period) and Deerhunter for they all have a common taste for shady guitars and pop-like melodies.
https://geographie.bandcamp.com/album/children-of-the-slump
CHICOS DE NAZCA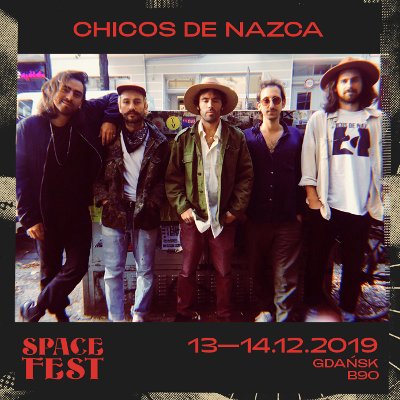 CHICOS DE NAZCA is a band from Santiago de Chile. Using the blasting power of repetition and reverberation, they will carve a hole in your soul as deep and abysmal as anything that's come before them, dredging your skull through the lysergic fractal fragments of your mind.
https://soundcloud.com/chicos-de-nazca
KWIATY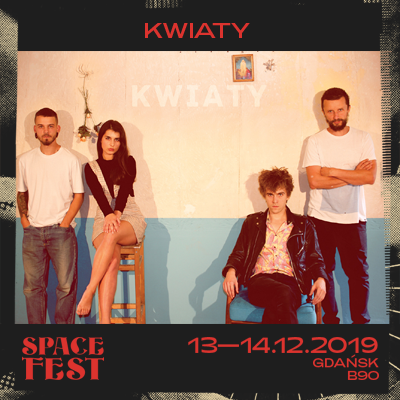 Gdańsk will also be represented by KWIATY. Their music has four different roots, which come together in a creative blend of indie-rock, psychedelic music, shoegaze and Twin Peaks inspirations. Kwiaty cannot be pigeonholed into a single genre, creating captivating songs that occasionally verge on more dynamic elements, rooted in punk rock.
https://soundcloud.com/zespolkwiaty
DYNASONIC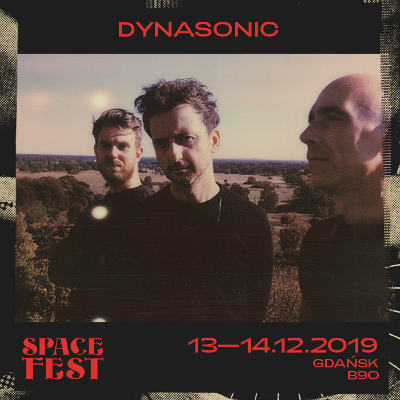 DYNASONIC is a Polish dubwave super-trio created by Mateusz Rychlicki (Kristen, Kobieta z Wydm), Adam Sołtysik (formerly of Pogodno) and Mateusz Rosiński (wrong dial, Dym Records). In their music, bass-heavy dubs romance with vintage sounds of classical instruments and field recordings. Hypnotising repetitions naturally send us towards associations with waves, but – bearing in mind that this is experimental electronica – these waves are rather stormy.
https://dymrecordings.bandcamp.com/album/dynasonic-1-dm21
STRAYTONES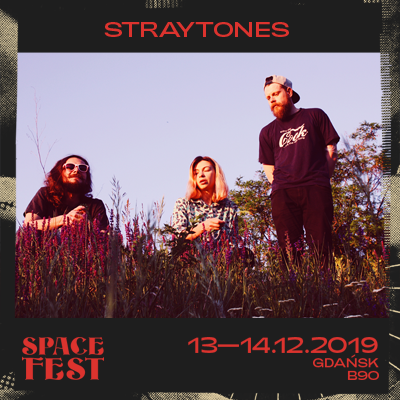 STRAYTONES is a psychedelic rock band from Kyiv, Ukraine. Their music has roots in garage rock stylings, with heavy influences of psychedelic and surf rock. Imbued with a spirit of 60′s garage rockers and hippies and heavily influenced by modern neo-psychedelic vibes – Straytones may recall associations with The Brian Jonestown Massacre, Night Beats, Wand, Ty Segall, Fuzz, and Thee Oh Sees. https://straytones.bandcamp.com
THE BLIND SUNS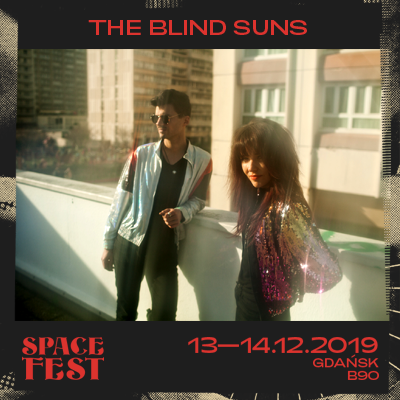 THE BLIND SUNS are a French-Polish trio drawing sounds from the likes of Mazzy Star, JAMC and The Primitives. The Blind Suns carry that Duane-Eddy-meets-Link-Wray guitar sound that sits so well alongside Dorota Kuszewska's captivating vocals. https://theblindsuns.bandcamp.com/
TITANIC SEA MOON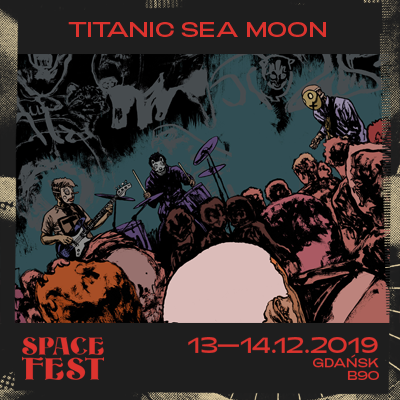 The SpaceFest! 2019 line-up would not be complete without the winners of our competition for interesting psychedelic acts: TITANIC SEA MOON. Members of this noise outfit, hailing from Słupsk and Elbląg, use to play in such bands as Ewa Braun, Guernica Y Luno, Wszystkie Wschody Słońca, Przyzwoitość, Shitface, Tornado Space Ship, and Najprzyjemniejsi.
https://www.facebook.com/pg/TitanicSeaMoon/
DJ DOUG SHIPTON (FINDERS KEEPERS)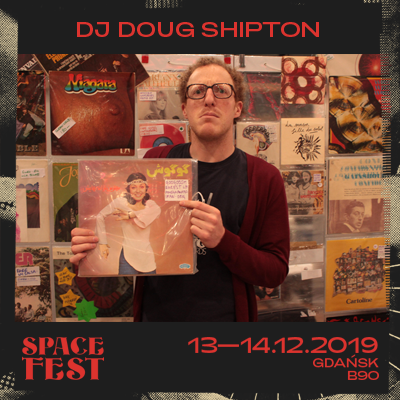 Traditionally, each festival day will culminate with DJ sets. This year, the mind-blowing afterparty will be the work of DOUG SHIPTON – renowned record hound, LP compiler, international DJ and co-founder of accidental world music label Finders Keepers Records. This South London rare-disc-detective divides his time working alongside fellow B-Music crusader and label mate Andy Votel in unearthing schizoid channel-hopping artefacts from the alternate annals of pop history.
ROGULUS X SZWELAS UND GOS + CZERKAS + IKA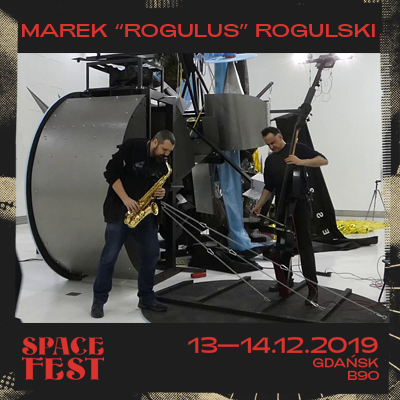 The live act of MAREK "ROGULUS" ROGULSKI'S formation – Rogulus X Szwelas und Gos + Czerkas + Ika, is a combination of an improvised music set and performative actions. The musicians use rare techniques of articulating sounds and preparation, and experiment with contemporary means of expression. They use unorthodox ways of playing instruments, focusing above all on sonoristic aspects of music
https://www.facebook.com/pg/instytutcybernetykisztuki